Preparation


In a sparkling clean mixer pour 2 cl of Campari, 2 cl of Martini and 2 cl of gin for each attending people; use a measuring cup unless you have the long-trained-measuring-eye of my friend Marco Lucchini (a true expert in this matter). Gently steer the liqueurs.

Align a sparkling clean cristal thumble for each people attending the cocktail. Put half a slice of fresh juicy orange into each glass. Add several ice cubes and fill up to 2/3 of any glass; arrange the ice cubes in such a way that orange slices stand in the upright position.

Finally pour the liqueurs from the mixer directly onto the ice cubes, allow 2 to 3 minutes "curing time", and then serve.

The curing time allows for the liqueurs to cool down and melt some ice. Use this time to call for the attendants and to bring the appetizers to the living room.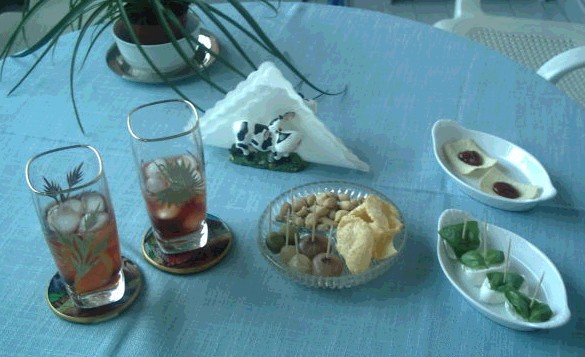 Appetizers


Negroni can be served just with several green sweet olives, better if giant size. The olives should be fresh, with or without the kernel stone, each being equipped with a toothpick to avoid people picking them with their bare fingers.

Peanuts and chips are also welcome, provided they are integer and fresh. You can also use Pringles chips.